Flight Instruction
At Vector Air, we offer all levels of flight training for individuals who are looking for a new, exciting hobby or planning a career in aviation.
With our one-one one dedication to your needs and your schedule, our flight instructors will make your flight training one of the most rewarding and enjoyable experiences of your life.
At Vector Air, we take your flight training very seriously. Jason Hurd, the owner of Vector Air and a 2,500-hour pilot himself, holds our flight instructors to extremely high standards. They are all experienced professionals who draw on on over 100,000 hours of flight time to make sure your flight training experience is fun, efficient and most of all, safe.
Whether you are new to aviation or a seasoned pilot looking to add additional ratings, or polish your skills, our staff is here to guide you along the way.
Discovery Flights


Not sure if you want to commit to Flight Training? We offer Discovery Flights for $99.00 to help you decide! A Discovery Flight is a 1/2 hour flight with a flight instructor. You will be in the pilot seat and will have an opportunity to fly the airplane! Please call 303-664-0633 to make a reservation for your Discovery Flight! Gift Certificates are available!

Download our Discovery Flight Consent Form Here
---
---
Our Flight Training Philosophy

We understand the substantial investment you are making in your flight training and we are honored that you trust us to provide you instruction.

We are working for you. At Vector Flight Training, we constantly strive for a balance of cost and efficiency in providing flight training. However, safety is our primary goal and we will not sacrifice your safety or the safety of our flight instructors or our aircraft in order to provide you with an accelerated flight training program.

Our objective is to develop safe, proficient pilots. If you share this philosophy, then we may be the right school for you and we look forward to training with you.
---
What Our Customers Say About Our Flight School

"I have been involved in aviation for the past seven years both as a student and a Flight Instructor. In my time as a student I have seen very few instructors that have the patience and the knowledge to truly teach a person to fly. An older pilot once told me that it takes a special person to manage the chaos that happens in the cockpit while teaching a person to fly and airplane. Jason Hurd is that "special type of person".
Chris A.

---
Our Fleet

We train primarily in Cessna 172's, one of which is a retractable gear aircraft. We also have a Beechcraft BE-76 for multi-engine training.

There are some requirements that must be met in order to be certifies as a Private Pilot. While 40 hours of flight time is the minimum required to obtain your Private Pilot Certification, the actual number of hours it takes you to complete your training depends on many factors, including the weather, the frequency of your flight and you dedication to the task. You Flight Instructor can explain all of the requirements to you.

At Vector Air there are NO CLUB DUES! You pay for Flight Instruction, Ground Instruction, and Aircraft rental. We also carry Pilot Supplies which you will need along the way.

Download our Discovery Flight Consent Form Here

---
Rental Rates and Avionics Information * Prices subject to change without notice
N4633J
1979 Cessna 172N
160HP / Carb

$108.00/hr wet


---

Narco Audio panel CP 136
Bendix King ADF KR 87
Narco Com 811
Narco Com 811
Narco Nav 825
Narco Nav 824
Narco DME 890
Bendfix King Transponder KT76A
Zeftronics Intercom SPA 400



N733XB
1977 Cessna 172N
180HP / Carb

$117.00/hr wet


---

Bendix/King audio panel KMA 24
Garmin Nav/Com GNS 530 (VFR only) Bendix/King Com KY97A
King Nav KNS 80
Bendix/King ADF KR 87
Bendix/King Transponder KT 76C
Telex Intercom PC4



N855CP
1998 Cessna 172S
180HP/Fuel Injected

$123.00/hr wet



---

Bendix/King audio panel KMA 26
Bendix/King GPS KLN89B
Bendix/King Nav/Com KX155A
Bendix/King Nav/Com KX155A
Bendix/King ADF KR 87
Bendix/King Autopilot KAP 140
Bendix/King Transponder KT 76C


---
---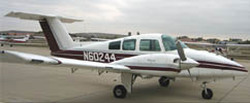 N60244
1978 Beechcraft BE-76
180HP / Carb

AIRCRAFT UNAVAILABLE AT THIS TIME
King Audio panel KMA 20
Garmin GPS 155
King Nav/Com KX 170B
King Nav/Com KX 170B
King DME KN 64
King ADF KR 85
Bendix King Transponder KT 76C
Bendix King Autopilot KFC200
Bendix King Flight Director & HSI KFC 200


---
Aircraft Rental
Our fleet of aircraft is also available for rent. Before renting aircraft at Vector Air, we will ask you to complete some paperwork so that we can learn a little bit about you and your flying history. You will be required to do a "check-out" flight with one of our instructors prior to taking an aircraft solo. Once you are checked out you'll be ready to take your friends up for a flight. We'll need a little paperwork from them too. Download our Passenger Waiver of Liability Here!

Please note that Vector Air adheres to a 60-day currency in our aircraft to fly the aircraft solo.

---
Hours of Operation

Flight Training is available seven days a week - Monday through Saturday 8:00am to 5:00pm and Sunday 8:00am to 2:00pm. After hours training is also available. Please speak to your Flight Instructor about flying outside normal business hours.

---
Flight Training for Non-US Citizens

If you would like to do flight training, but are not a US Citizen, you must participate in the TSA's Alien Flight Student Program (AFSP). You can learn more about the AFSP on the AOPA website.


---