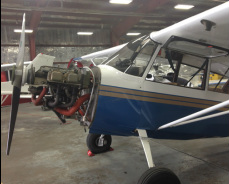 Aircraft Maintenance and Inspection

From Single-Engine and Multi-Engine to Rotorcraft, Vector Air provides you with the highest quality professional aircraft maintenance anywhere. We offer service on Cessna, Cirrus, CubCrafters, Beechcraft, Piper, Mooney, Aviat, Enstrom, Schweizer, Robinson and other aircraft.

Vector Air Is a Factory-Authorized Service Center for Cessna Single Engine Aircraft, Cirrus Aircraft, CubCrafters Aircraft and Enstrom Helicopter Corporation.
---
---
Our Philosophy

We understand the substantial investment you have made in your aircraft and we are honored that you trust us to service and maintain it.

At Vector Air, we are working for you. We constantly strive for a balance of cost and downtime when servicing your aircraft. However, safety is our primary goal and we will not sacrifice your safety or the safety of your aircraft in order to do a "quick fix" on your aircraft.

If you share this philosophy, we may be the right shop for you and we look forward to working with you.

---
Our Services Include:
Annual / 100-hour Inspections

Oil Changes / 50-hour Inspections
Engine Installations and Overhauls
Service Bulletins and AD Compliance
Pitot Static and Transponder Certification
Pre-Purchase Inspections
G1000 Factory Certified Repairs
STC Installations
Interior / Exterior Detail Service

Aircraft Weighing
Aircraft Parts and Accessories
Authorized BRS (Ballistic Recovery Systems) Installation Center
---
Hours of Operation
Our service department is open Monday through Friday from 8:00am to 4:00pm

---
What Our Customers Have to Say About Our Shop

Dear Jason and Staff,
I cannot thank you enough for your expert handling of N21** and N722** through the pre-buy and annual inspection process. Your expertise was valuable and your hospitality while waiting out the weather was much appreciated. Thank you also for letting us use the crew car for and extended period. I look forward to working with you again in the near future.
Thanks,
Paul. S.

---
Dear Jason,
I just wanted to call and thank you for the great service on the airplane. Everything is working great and the plane was cleaned and washed when I picked it up! An unexpected surprise!
Thanks again,
Marc L.

---
Dear Jason, Terry and Jon,
Your GREAT service cannot go without recognition!! Thank you for your expert handling of N427** and N634**. I always know that when a plane enters your hangar that things are in good hands.
Thanks again,
Paul. S.

---
Thank you for your honesty. If it hadn't been for that honesty I would have flown to Colorado to find a plane that wasn't worth buying. I wish Ohio was closer to Colorado! I'd have you do the work on the plane I did buy! Thanks again,
Charlene G

---
As a dealer in new and previously owned Cessna Aircraft, I have many occasions when I contact Jason Hurd for advice and questions about aircraft maintenance and operations. Jason is always happy to assist my clients and me with any issues that may arise during the purchase and delivery of an aircraft. Jason's integrity, technical expertise, attention to detail and outstanding business ethics make him and his business an asset to the Town of Erie.
Eric N.
Propel Aircraft Sales

---
Dear Jason,
I just wanted to take this opportunity to thank you Rachelle, Terry S. and your entire staff for the professionalism, courtesy and excellent service we received over the years with our airplane. The annuals on the airplane were always done very professionally. I always felt safe getting back into the airplane after Vector had worked on it.
Sincerely,
Brenda B.